With the Google Panda algorithm upgrade, low-quality websites were to be less prominent in Google's organic search engine. Therefore, superior websites were to be rewarded.Google updated their search algorithm in 2011 with a change known as the "Panda update." The Panda update, along with the Penguin update, was one of the most important Google adjustments because of how significantly it affected page ranks.
The Panda Update's Purpose
The primary goal of the Panda upgrade was to improve search results by removing low-quality websites .Now integrated into the main Google search algorithm is the Panda update.The algorithm modification functions as a website quality filter. Websites with lower quality are excluded and given less value. This evaluation is done per URL rather than per webpage.
The afflicted websites suffered in the SERP as a result of this devaluation, which negatively impacted their SEO visibility. Although the Panda update does not affect the entire site, certain URLs were affected. Which caused significant landing pages to lose prominence.
The quality of the SERP considerably increased with the rollout of the Panda upgrade. The algorithm's implementation thus contributes to improving the user experience of the Google search engine. Users find searching to be considerably more appealing as a result. Another, undoubtedly positive side effect.
What Elements Enter into the Google Panda Update?
From an SEO perspective, a website's quality can be made up of a variety of distinct variables. Texts that have been duplicated from other websites, duplicate content, or so-called "thin content" are all examples of content that lacks added value.
Negative user signals: The quality filter may be activated by indications such as high bounce rates or short visit durations.
An unbalanced relationship between advertising and content: If advertising blocks have a negative impact on how a website is used, it can hurt the site's reputation.
High keyword density: If a keyword appears too frequently in an entry, it may indicate poor content.
Irrelevant metadata: If the title or description does not accurately reflect the content of the website or contains too many keywords.So this may give Google a poor quality signal.
Low-quality incoming links: If a website has no backlinks or just has low-quality ones. Google may use this as evidence that it is an internal website.
When was the Initial Panda Update Released?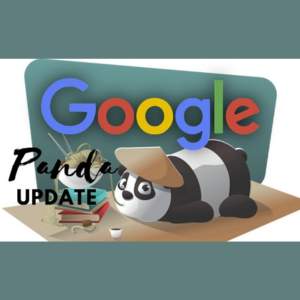 On February 23, 2011, the first Panda update was implemented for Google search in the USA. On April 11, 2011, the upgrade was launched for all English-language search queries. In August 2011, the algorithm adjustment was globally implemented for all languages with the exception of Korean, Chinese, and Japanese.
According to the search engine provider's official claims, the Google Panda upgrade had an impact on 13% of all search queries. For SEO globally, the first week following the release of the Panda update saw significant effects. Web directories and websites with subpar content, such as those that just amass content, were particularly affected.
Important Impact on Ranking
When Panda was unveiled, Google, as usual, merely gave a very brief insight into the guiding principles of its algorithm. Because of this, it is impossible to pinpoint precisely which criteria and how many of them are used in the evaluation. However, empirical research has demonstrated that the Panda update had a considerable impact on search query rankings.
Numerous well-known commercial websites also suffered when they significantly dropped in ranking as a result of their subpar content. Such as can be seen, for instance, in the corresponding visibility indices of the online service provider Sistrix. For instance, content farms, directory pages, or coupon portals are among the penalized websites.
In conclusion, websites that regularly post high-quality, original material have little to fear from this upgrade. However, if your website has engaged in questionable tactics, it may have already penalize the Panda. Practically speaking, building a brand that is acknowledged as an authority in its industry and creating a website that gains trust due to its exceptional content are your best bets for avoiding Panda.