A website's SEO (search engine optimization) performance is assessed from a variety of perspectives using a digital application called Embed SEO Audit application. It provides marketers, SEO specialists, and website owners with rapid access to performance data and insight.This tool examines a variety of elements that impact a page's visibility on search engine results pages.It looks at the user experience, on-page optimization, technological issues, site performance, backlink quality, and responsiveness to mobile devices.
Utilize the embeddable SEO audit tool to evaluate the SEO strategy's advantages and disadvantages. You can understand how the Website's performance has improved and how search engine traffic has increased by using this tool.It is a crucial tactic for improving a website's overall quality and ranking in Google search results.
Table of content

1: What is an SEO Audit Tool?
2: Why Is an SEO Audit Tool Necessary?
3: Understanding SEO Audit Metrics
Keyword Analysis
Backlink Analysis
Site Speed and Performance
On-Page SEO Factors
Mobile Responsiveness
Technical SEO Elements
User Experience (UX)
Competitor Analysis
4: Detailed Instructions for Including an SEO Audit Tool
Research and Choose a Suitable Tool
Obtain the Embed Code
Implement the Embed Code
Customize the Tool's Appearance
Test the Embedded Tool
Monitor and Analyze the Results
5: Use of an Embedded SEO Audit Tool has These Benefits
6: Precautions and Best Practices
Data Privacy and Security
Regularly Update the Tool
Integrating with Other Tools
7: Conclusion
8: FAQ'S
What is an SEO Audit Tool?
Website owners, marketers, and SEO experts can evaluate the overall performance and SEO health of a website using a software program or online service known as an SEO audit tool. The tool thoroughly examines the many factors that have an impact on a website's search engine ranking and provides helpful advice to improve its visibility.
Why Is an SEO Audit Tool Necessary?
Conducting regular SEO audits is necessary to understand how effectively your website complies with search engine algorithms. With the use of an SEO audit tool, you may identify technical issues, focus on problem areas, and seize possibilities for improved search engine rankings.
Understanding SEO Audit Metrics
Prior to installing an SEO audit tool, it is essential to understand the primary metrics it considers.
Keyword Research
This statistic examines the search terms for which your website is ranked and identifies areas where you might concentrate on high-value keywords.
Backlink Analysis
This analysis evaluates the quantity and quality of backlinks pointing to your website.
Performance and Speed of the Site
A slow website can have an influence on both the user experience and the search results. This indicator rates the efficiency and speed with which your website loads.
On-Page SEO Elements
The goal of this study is to increase each page's target keywords, headers, and content quality.
Mobile Responsiveness
The capacity of a website to be mobile-friendly is crucial for SEO. The tool assesses how responsively your website is to different devices.
Technical SEO Components
To ensure proper indexing by search engines, technical variables including sitemaps, robots.txt, and schema markup are examined.
User Experience (UX)
This metric looks at user engagement, bounce rates, and other factors that enhance the user experience.
Analyzing competitors
The tool could give you insights into the SEO strategies used by your competitors, enabling you to determine where you might outperform them.
Step-by-Step Guide to Embedding an SEO Audit Tool
Follow these steps to incorporate an SEO assessment tool on your website:
Research and Select an Appropriate Tool
Conduct thorough research to find an SEO audit tool that meets your specific requirements. Choose a program that is simple to use and provides extensive analysis.
Get the embed code
Once you've chosen a tool, register for or sign up for an account. You will receive an embed code that you can use on your website.
Put the embed code into action
Add the embed code to the HTML source code of your website. Choose a location that is easy for users to access.
Alter the Tool's Visual Appearance
You can alter the colors and layout of several SEO audit tools to match the design and branding of your website.
Test the embedded Tool
Before making the embedded tool live, thoroughly test it to ensure that it functions properly and generates accurate results.
Track and Examine the Outcomes
Regularly examine the data the tool's insights provide. Make use of the information to improve your SEO strategies over time.
Use of an Embedded SEO Audit Tool has These Benefits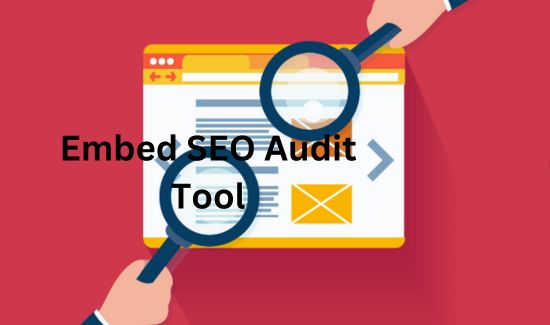 The benefits of using an embedded SEO audit tool are as follows:
Time-saving
The tool automates the auditing process, saving website owners and marketers a ton of time.
Data-based judgments
Making informed decisions about SEO improvements is made easier with the tool's analysis.
Improved website performance
Finding and fixing SEO issues can significantly improve the overall performance and ranking of your website.
Precautions and Best Practices
To make the most of an embedded SEO audit tool, take into account the following safety precautions and recommended practices:
Data Security and Privacy
Ascertain that the application complies with data privacy regulations and does not compromise sensitive user data.
Consistently Upgrade the Tool
Keep the tool updated to get the newest features and enhancements for better performance.
Integrating Other Tools, Section
Consider combining the SEO audit tool with additional analytics and SEO tools to get a more full view of how well your website is performing.
Conclusion
It would be wise for any website owner or marketer looking to enhance their online visibility to implement an SEO audit tool. By using the information provided by the too, you can raise the search engine rankings of your website and enhance organic traffic to your online platform.
FAQs
Can I use a variety of SEO auditing tools on my website?
Yes, there are many SEO audit tools available, but to avoid duplication, it's advisable to choose one that offers a full assessment.
Do you have any resources I can use to conduct a free SEO audit?
Yes, some SEO audit tools offer a minimal amount of capability without charge, while others might offer expensive subscriptions with additional functions.
Can an SEO audit tool improve my website's ranking immediately?
No, even though an SEO audit tool provides informative data, consistent effort and patience are required to improve rankings.
Is embedding an SEO audit tool difficult for beginners?
No, most SEO audit tools are designed to be user- and embedder-friendly, even for beginners.
Do top search engine results come with using an SEO audit tool?
The competitiveness of your niche and the caliber of your content are also important factors in reaching top results, even though an SEO audit tool can dramatically improve the SEO of your website.